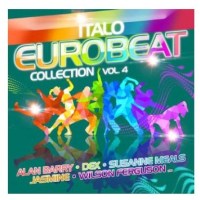 Исполнитель: Various Artists
Альбом: Italo Eurobeat Collection Vol. 4
Год: 09.07.2021
Формат носителя: 2CD
Лэйбл: Zyx
Номер в каталоге: PM 22-23133
Страна производитель: Германия
Описание
Также в 2021 году мы с гордостью представляем очередное издание нашей серии сборников компакт-дисков «Italo Eurobeat Collection». Вы ждёте с нетерпением 2-х компакт-диска, включающих более 2-х часов работы и множество раритетов эпохи Eurobeat?
Коллекция Italo Eurobeat Vol. 4 содержит классные и культовые песни Wilson Ferguson, Jasmine, Dex, Dandy, Barry Foxx, Alan Barry, Susanne Meals и многих других.
Трэклист
CD 1:
Wilson Ferguson - I'M Singing Again (Extended Version)
Elisabetta - My Sunshine (12" Version)
Jasmine - My Love (Extended Mix)
Reflectors - You Drive Me Crazy (12" Version)
Dex - Day By Day (Dance Mix)
Janet - One Day (Vocal Version)
Krystyna - Let The Night Take The Blame (Extended Version)
Mindy Love - It'S A Shame
Dandy - Casanova (Extended Version)
Barry Foxx - Take Me Back (Mix Version)
Lucy - Tell It To Your Heart
CD 2:
Eddy Skyn - It'S A Lie (Dance Mix)
Ian Lex - Blue Eyes (Vocal Version)
Edyta - Be Slave Of My Heart (Vocal Version)
Jacqueline - All My Heart (Funny Version)
Lilac - Come Come Come (Orient Express Version)
Alan Barry - Innocent (Extended Version)
Danny - Don'T You Know (12" Version)
Baby Baby - Fireball (Dance Mix)
Susanne Meals - Forever (12" Version)
Dex - Bang Bang Bang (Dance Mix)
King Kong & The D'Jungle Girls - It'S So Funny (Extended Banana Version)

Заказать!